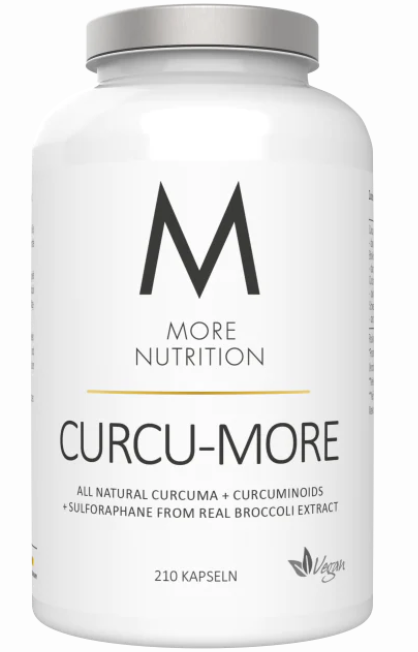 General
Our Curcu-More Curcuma capsules with curcuminoids and sulforaphane from broccoli extract have a high bioavailability and are tested for good quality by regular laboratory analysis.
Curcu-More supports the body in inflammatory processes, whether problems with the skin, joints or digestion.
Ingredients
Curcuma
Curcuma originates from South Asia and is even considered a sacred plant there and in India. In the traditional health teachings as well as in Ayurveda Curcuma is a firm component.
Also in the European area is researched on the effect. In the monographs of the World Health Organization (WHO) on selected medicinal plants, curcuma was listed as early as 1999. Uses of curcuma described by solid clinical data or pharmacopoeias of traditional medicine include:
Flatulence
skin problems
Inflammation-related (joint) pain
amenorrhea (missed periods)
Diarrhea
reflux (acid regurgitation)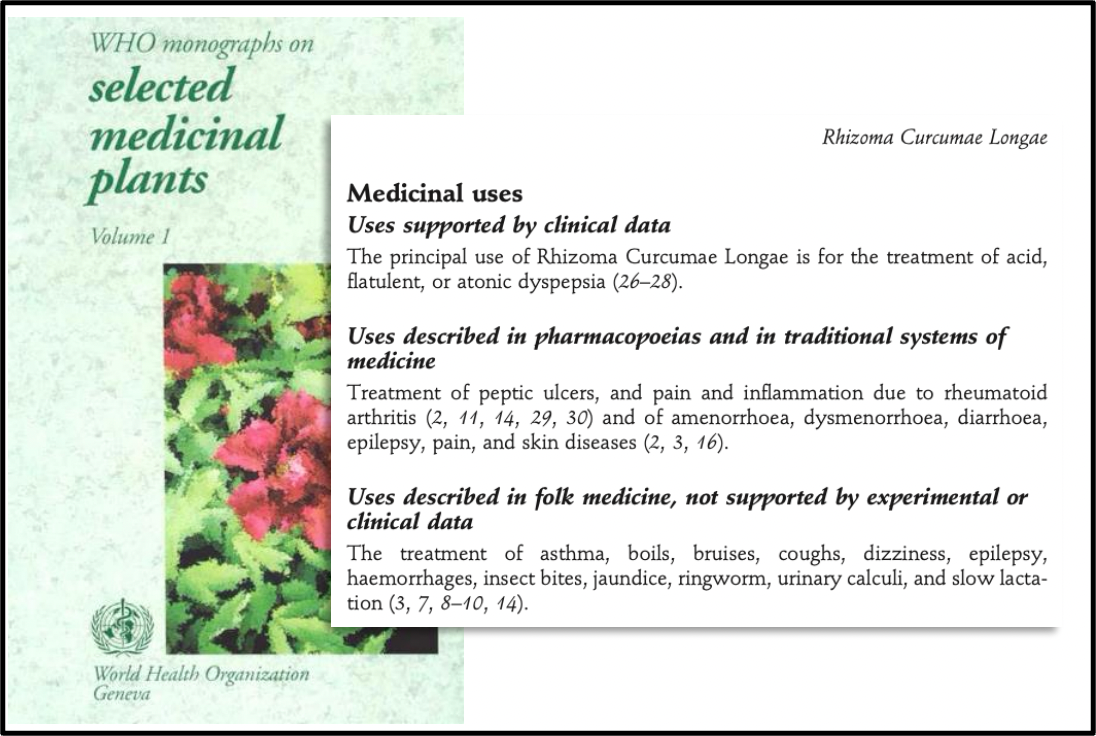 A special feature of curcuma powder is its bright yellow color. The root owes this to the curcuminoids it contains. These include curcumin and other curcumin-like substances: demethoxycurcumin, bisdemethoxycurcumin and cyclocurcumin.
Curcumin is a secondary plant substance and one of the biologically active substances of the curcuma root. The substance belongs to the potent polyphenols, which are contained in plants mainly in the outer marginal layers, and therefore, unfortunately, most of them are lost when peeling fruits and vegetables.
Normal curcuma powder contains 3 to 5% curcuminoids, of which about half is curcumin. This makes a large amount of curcuma powder necessary for a high amount of curcuminoids, which is why "Golden Milk", for example, does not provide a relevant amount of curcuminoids. In our Curcu-More, in addition to the high amount of curcuma powder, the patented curcuma extract CurQreal® has been added for even more curcuminoids. This results in an effectively dosed amount of 450 mg curcuminoids per serving (7 capsules).
The special combination combines the benefits of natural curcuma powder with the effectiveness of the patented curcuma extract.
Curcuma and skin health:
Improvement of skin problems such as acne or various forms of dermatitis
A 2016 systematic review of clinical trials on the effect of turmeric on skin health consistently found that turmeric produced significant improvement in skin problems compared to control groups.
Positive effect on inflammatory skin problems
Another review emphasizes that there is a growing body of evidence that turmeric may have a positive effect on inflammatory and infectious skin problems in particular. The effect is understandable, as the anti-inflammatory effect of curcuma has been found in a large number of studies.

Curcuma and digestion:
Multifaceted positive effects on the entire digestive system
A systematic review and meta-analysis on turmeric and digestive problems summarizes that turmeric may have beneficial effects on a variety of digestive problems. Among the most common are flatulence, reflux, irritable bowel syndrome.
These positive effects are repeatedly noted in many other scientific papers on curcuma and curcumin (example 1, example 2, example 3)
Curcuma for joint problems:
Positive effects in arthritis and osteoarthritis
A systematic review and meta-analysis of randomized clinical trials summarizes that, although there are not yet enough clinical trials with large numbers of participants, a definitive recommendation for the use of curcuma in the treatment of arthritis and osteoarthritis can already be made from a scientific perspective. Overall, the review also emphasizes that there is now sufficient evidence that curcuma has a positive effect on arthritis and inflammation in general.


Influence of curcuma on training:
Improving recovery after strength training
A systematic review of current data on the effect of curcumin on exercise-induced muscle damage summarizes that curcumin can both reduce the intensity of perceived muscle pain and also measurably reduce muscle damage by reducing muscle creatine kinase. In addition, the anti-inflammatory effects of curcuma again come into play.
Extensive positive effects on athletic performance
In another systematic review, also from 2020, reduced inflammation levels, lower incidence of oxidative stress, muscle damage and muscle pain, overall improved recovery and performance, and improved digestion are also found as a result of taking curcuma.
No influence on anabolic signals due to anti-inflammatory effect
Meanwhile, many studies have found that anti-inflammatory drugs can inhibit anabolic signals. This is because acute inflammation is basically intentional and initiates muscle growth. Excessive, chronic or systemic inflammation, on the other hand, again has a negative effect on muscle growth, which is why old people in turn benefit from anti-inflammatory drugs with regard to muscle growth. Curcuma, however, behaves somewhat differently, since it inhibits inflammation in a different way and thus does not impair muscle growth. Neither in young nor in old. Thus, curcuma is the remedy for athletes when it comes to anti-inflammatory effects.


Effects of Curcuma on biochemical processes:
Increase serotonin and dopamine
In various studies, Curcuma has been found to be involved in the modulation of various neurotransmitters, which include serotonin and dopamine.
What are the benefits of pepper extract?
Secondary plant substances such as curcumin basically have poor bioavailability. This means that the substances can only be absorbed by the body with great difficulty. Curcuminoids are fat-soluble substances that accumulate in the intestinal environment, making it difficult for them to pass from the intestines into the bloodstream.
For this reason, Curcu-More contains black pepper extract. Pepper also contains an important secondary plant substance: piperine. Through piperine, the bioavailability of curcumin is 20 times higher. One Curcuma capsule Curcu-More contains 3mg pepper extract, about 95% of which is piperine.

Sulforaphane from broccoli extract
To give your body the best nutrients as a dietary supplement, Curcu-More capsules contain not only Curcuma powder, but also broccoli extract. The broccoli plant, but especially broccoli sprouts, contain numerous valuable secondary plant compounds. Especially the plant substance sulforaphane has gained much attention in recent years.
Since sulforaphane is not present in significant amounts even in most broccoli extracts, high-quality extract is difficult to obtain. However, our Curcu-More capsules contain a high-dose extract. The broccoli extract has a sulforaphane content of 13%, which is confirmed by laboratory analysis. So you can be sure that you are getting exactly what it says on the label.
Sulforaphane is also found in other plants, but notable amounts are mainly found in broccoli (or the mustard oil glycoside glucoraphanin).
Benefits Sulforaphane:
Recent scientific evidence showed strong antioxidant and anti-inflammatory effects for sulforaphane. In this regard, sulforaphane increases antioxidant cellular activity. It activates endogenous enzymes in the liver, which then neutralize free radicals, preventing further damage. The antioxidant properties appear to be similar to those of curcumin, which is why sulforaphane and curcumin act synergistically here.

Curcu-More FAQ
Does the Curcu-More have positive effects on digestion?
Both Curcu-More and More Biotic can have positive effects on digestion. If you are primarily concerned with improving digestion and supporting intestinal and vaginal flora, then we advise the More Biotic. If you want to take Curcu-More to support inflammatory processes, it can also have positive side effects on digestion.
Is Piperine safe? What about the BfR study?
The black pepper extract used in Curcu-More, which is the source of piperine, is the patented branded raw material BioPerine®, which has GRAS status. GRAS means "Generally Recognized As Safe." To obtain this status, extensive reviews of safety and toxicology data are conducted by an independent panel of scientists with international reputations.
Further, an opinion on the safety of piperine was published by the European Food Safety Authority (EFSA) in 2018. In this, it was found that the range of doses at which adverse interactions may occur were in the range from 5 to 20 mg/kg body weight. Therefore, EFSA set the so-called NOAEL, up to which no adverse effects were observed, at 5 mg/kg body weight and the ADI with safety buffer at 3 mg/kg body weight.
So let's briefly summarize: Curcu-More contains 20 mg of piperine per daily ration from a special raw material that has been classified as fundamentally safe by an independent panel of scientists and toxicologists. For piperine in general, EFSA has set a NOAEL of 5 mg/kg body weight. So unless you weigh less than 4 kg, there is nothing to worry about here.
Sulforaphane concentration in Curcu-More
There are, of course, quality differences in sulforaphane. The first obvious quality characteristic is the sulforaphane concentration. At 13%, the concentration of sulforaphane in Curcu More is significantly higher than in competing products, which are usually only around 10%.
In addition, due to our own production, we have full control over our raw materials, unlike other manufacturers. We can guarantee that the raw materials are always fresh, stored cleanly and are already analyzed upon receipt. This way we can guarantee the highest quality. Other manufacturers often only produce at contract bottlers who do not have their own laboratory - and thus lose transparency and control over their products.
Should I take Curcu-More if I have high blood pressure?
Curcumin does have anticoagulant properties which can affect blood pressure and other hemodynamic factors. To be on the safe side, the intake should always be clarified with a doctor who can give an individual assessment.