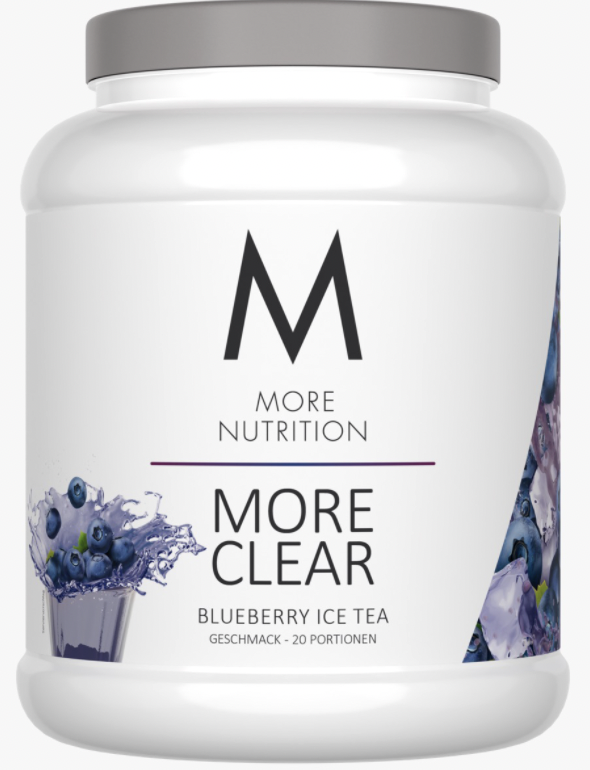 General
More Clear is the original whey protein powder made from whey protein isolate, which tastes like a refreshing juice, iced tea or lemonade, depending on the variety - but without the sugar, instead with lots of valuable protein and without unnecessary calories.
Not only ideal for those who prefer a refreshing drink before, during or after their workout instead of a creamy shake.
Our More Clear is perfect for anyone who wants to cover their daily protein requirements in a tasty and light way. Whether you don't like the consistency of classic protein powders or are simply looking for a change from a creamy whey protein shake - with our More Clear Whey Isolate you can prepare delicious, fruity protein drinks and provide your body with an optimal supply of protein.
That's what makes our More Clear Whey Isolate so special:
Protein drink in many delicious flavors
Whey isolate powder without fat, lactose and sugar
High protein content: 24 g protein per 500 ml shake (4.8 g per 100 ml)
Low in calories with only 99 kcal per 500 ml shake (20 kcal per 100 ml)
Supports your muscle building with all valuable amino acids
What is a whey isolate?
More Clear is a whey protein isolate of the highest purity. To produce it, fat, lactose and undesirable flavor carriers are removed from the whey in a patented process. The result is a whey isolate with a higher protein content than whey protein concentrate and practically no sugar or fat, which can be made into a delicious, clear protein soda in no time at all and tastes like a soft drink, iced tea or juice. So if you want as much protein as possible with as few calories as possible, More Clear is the right choice. Our high-quality whey protein isolate is not only exceptionally tasty and well tolerated, but also has a high biological value with an excellent amino acid profile - ideal for your muscles.
By the way: Because not only fats are completely filtered out during the production of the whey protein powder, but also lactose, the More Clear Whey Protein Drink is even suitable for people with lactose intolerance.
Our tip: protein powder with beauty and health benefits
Our More Clear Glow Peptides combines our fruity, refreshing More Clear Proteinlimo for your protein needs with extra nutrients for your beauty from the inside out + health for your joints, tendons and ligaments. Here, approx. 26 grams of protein per serving meet special patented collagen peptides, hyaluronic acid, copper and vitamin C.
While the protein is essential for building and maintaining muscle, collagen and hyaluronic acid support the structure, moisture and elasticity of your skin and support joints, tendons and ligaments.
Copper promotes a natural glow. It also supports your skin pigmentation and connective tissue. And vitamin C contributes, among other things, to normal collagen formation for normal skin function.
You can find all further information about proteins in our article:
"Proteins - everything you need to know to meet your protein needs"

More Clear FAQ
Can More Clear be used despite fructose intolerance?
More Clear does not contain any fructose in the product nor does it contain any other molecules that individuals with fructose intolerance might also experience issues with (e.g. FODMAPS). The sweetener and flavoring agents in More Clear include citric and malic acid as well as sucralose and stevia, which are not considered FODMAPS and should not present any issues.
Can More Clear be used despite lactose intolerance?
More Clear is very strongly filtered and is therefore virtually lactose-free.
Can More Clear be used if I have a milk protein allergy?
No, only the vegan protein shakes are suitable for people with a milk protein allergy. That means the Total Vegan Protein and the Vegan More Clear.
Is More Clear gluten-free?
Yes, More Clear consists only of whey isolate and is gluten-free.
Can More Clear be heated?
Yes, it can be heated - but preferably not above 60 degrees.