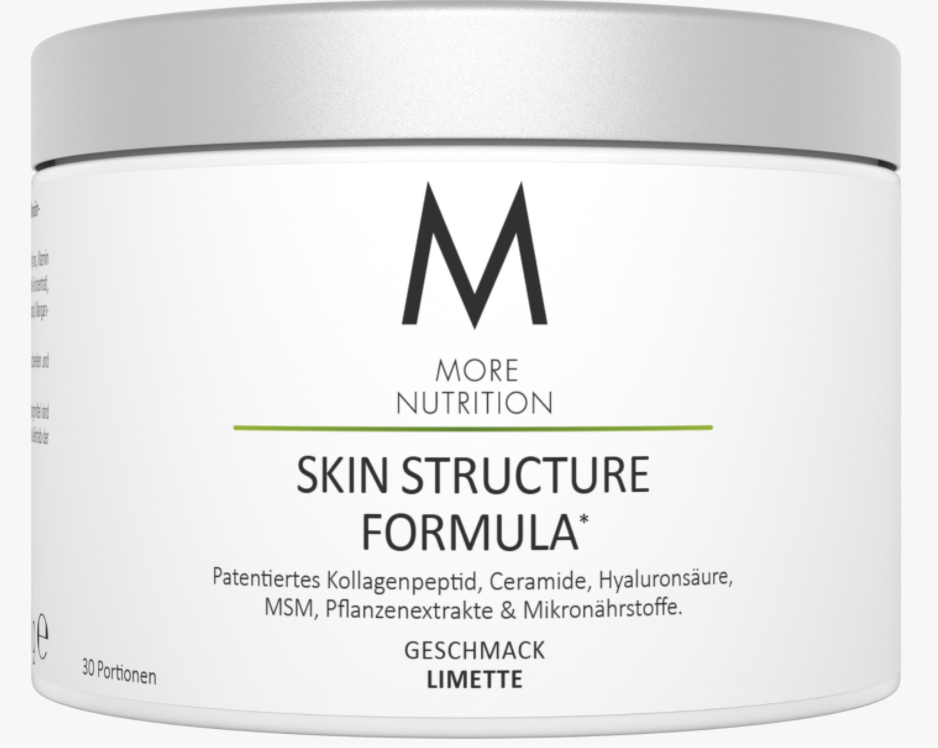 What can I expect from the product Skin Structure Formula?
Skin Structure Formula is a luxury product containing everything your skin needs to remain youthful, smooth, and hydrated.
Unlike creams and other cosmetics that you apply directly to your skin, Skin Structure Formula is designed to work from inside the body to rejuvenate collagen, strengthen elastin, and reduce oxidative damage.
What are the benefits of Skin Structure Formula?
The Skin Structure Formula is a multi-ingredient supplement designed to support the structure and appearance of the skin by influencing several key mechanisms:
Stimulate collagen production
Improve skin elasticity
Increase hydration
Scavenge free radicals
Suppress inflammation
All the ingredients included in the Skin Structure Formula have been shown in randomized controlled trials to benefit skin health.
Bioactive collagen peptides
Methylsulfonylmethane (MSM)
Hyaluronic acid, with a molecular weight specific to the skin
Plant ceramides
Carotenoids and other plant extracts
Essential cofactors
All these nutrients have a lasting impact on skin health throughout the body, not just in isolated areas where you would apply any creams or other topical agents. Clinically noticeable benefits typically take about four weeks to manifest, and greater improvements are seen as time goes on with consistent supplementation.
How is the Skin Structure Formula taken?
Mix 9 grams (3 heaped scoops) into 300 ml of water and drink it on an empty stomach, ideally in the morning before eating. Consume daily for at least 8 weeks to see the best results.
Why was the Skin Structure Formula developed?
People like looking good. Helping reduce skin aging is one of the best ways to maintain a youthful beauty as we grow older. Yet, about half of the women in Germany have problems with their skin texture, including dry skin and cellulite.
Ingredients
Bioactive collagen peptides
Roughly 80–90% of our total collagen pool is types I, II, and III. The skin is made of primarily type I collagen and is in a constant state of collagen turnover to maintain its integrity and youthful appearance. With aging and photodamage the breakdown of collagen starts to exceed its synthesis. Eating collagen can help in two ways:
Provides the amino acid substrates, especially glycine and proline, necessary for the body to make more collagen.
Provides collagen peptides that bind to receptors of skin cells and tells them to start making more collagen.
This second job is really where collagen shines, since we can get amino acids from any food source of protein, but we can get collagen peptides only from dietary collagen. Studies in animals and humans have used special tracer studies to follow collagen peptides throughout the body, revealing that consuming collagen leads to the appearance of several bioactive collagen peptides in circulation.
Eating collagen in large enough quantities (~15 grams/ day) has been shown to increase rates of collagen synthesis in healthy adults, and there is also at least one study in rats showing that dietary collagen peptides are incorporated into the skin within hours after being eaten and stimulate skin collagen synthesis.
So, the biological rationale is there in terms of eating collagen for skin health. Quite a few clinical studies in humans support this notion, consistently showing benefits for skin hydration and wrinkling. While total-body collagen synthesis is enhanced with at least 15 grams of hydrolyzed collagen, the skin-specific clinical trials use 3–10 grams.
For example, Verisol® is a patented bioactive collagen peptide derived from type-I collagen that has been shown to benefit skin health in several clinical trials:
In healthy older women (45–65 years old), 2.5 grams of Verisol® taken daily for 8 weeks reduced eye wrinkling by 20%, increased collagen synthesis by 65%, and increased elastin content by 18% compared to a placebo.
In healthy middle-aged women (35–55 years old) complaining of dry skin, both 2.5 and 5 grams of Verisol® taken daily for 8 weeks improved skin elasticity by 7% but failed to improve skin hydration, water loss, or roughness.
In healthy young and middle-aged women (20–50 years old) with moderate cellulite on the thighs, 2.5 grams of Verisol® taken daily for 6 months reduced the cellulite score by 4–9%, reduced skin waviness by 3–10%, and improved connective tissue density of the skin compared to placebo.
Hyaluronic Acid
Hyaluronic acid (HA; also called hyaluronan or hyaluronate) is a major structural component of our tissues and organs. It plays a key role in modulating tissue hydration and osmotic balance so that it can provide a hydrated and stable space where cells, collagen, and other connective tissues can be healthfully maintained.
A 154 lb adult has about 15 grams of HA throughout their body and recycles about 5 grams per day, meaning that there is substantial turnover of HA on a daily basis. About half of it is in the skin alone, where it plays several important roles:
Maintenance of elasticity and lubrication
Regulation of collagen-producing cells (fibroblasts)
Scavenging of free radicals
Suppression of inflammation
Reduction of collagen breakdown
Studies in rats and dogs have shown that HA largely resists digestion and is instead metabolized by the gut microbiome into smaller peptides that are absorbed through our large intestine. Once in circulation, the HA peptides travel to and incorporate themselves within the skin.
Several clinical trials of dietary HA have found skin-hydrating benefits with 40–240 mg/d over 4–6 weeks, particularly in those who have dry skin to begin with.
MSM
Methylsulfonylmethane (MSM) is a naturally occuring compound with an ability to easily penetrate membranes and permeate throughout the body, exerting anti-inflammatory, antioxidant, immune-supporting properties. It also has the ability to donate methyl and sulfur moieties to the numerous essential bodily processes requiring them.
Preliminary evidence has found that supplementing with 1–3 grams of MSM per day for 16 weeks reduces wrinkling and improves skin texture, firmness, elasticity, and hydration, with a marginally greater benefit for 3 grams compared to 1 gram.
Vitamin C
Vitamin C (ascorbic acid) is a common ingredient of skin supplements and creams due to its necessity for collagen synthesis, role as an antioxidant, and ability to promote the growth and differentiation of skin cells.
A study in humans found that skin concentrations of vitamin C increased, while skin-specific oxidative stress decreased, following oral supplementation of 500 mg/d for 8 weeks. A separate study also documented increases in skin vitamin C content with supplementation, albeit at a much higher dose of 3 g/d for 50 days.
It's been suggested that skin concentrations increase in tandem with serum concentrations of vitamin C and are therefore maximized when serum levels are saturated, which occurs with doses of 500–1000 mg.
Lycopene
Lycopene is a carotenoid that bestows a lovely red color. Mechanistically, lycopene is considered to be one of the most efficient singlet oxygen quenchers, which are a primary driver of photodamage, and skin with higher concentrations of lycopene appears healthier and less damaged.
Numerous studies have shown that simply eating tomatoes minimizes photodamage and builds resilience against UV radiation. The best-controlled and largest study to date comes from the lab of Jean Krutman, director of the IUF - Leibniz Research Institute for Environmental Medicine at Düsseldorf, Germany. He recruited 145 middle-aged adults and had them consume a tomato-based supplement providing 15 mg of lycopene or a placebo for 12 weeks.
A clear benefit was seen: the placebo group had more reddening (burning) than the group eating the tomato-based supplement. There was also a clear reduction in the inflammatory response to damage, further supporting a protective effect of tomatoes.
While this was the best-controlled study on the topic, other small studies back-up its findings.
Eating 40 grams of tomato paste (16 mg lycopene) led to 40% greater protection against UV damage than those eating the placebo after 10 weeks.
Eating 55 grams of tomato paste (16 mg lycopene) not only increased resilience to UV radiation by 52% compared to eating the placebo after 12 weeks, but also reduced mitochondrial damage and increased collagen deposition in the skin.
Supplementing with 10 mg of synthetic lycopene increased UV resilience by 25% after 12 weeks.
Caution! Despite the higher protection against UV damage by taking lycopene, this is not a substitute for a good sunscreen, which should continue to be used daily.
Citrus and Rosemary
Citrus contains a large amount of flavonoids and rosemary is rich in polyphenols and diterpenes (rosmarinic acid, carnosic acid, and carnosol). One small study of 10 healthy adults supplemented with 125 mg of citrus extract and 125 mg of rosemary extract found that resilience to UV radiation was increased by 56% after 12 weeks.
A second larger and better-controlled study of 90 women found that daily supplementation with 100 or 250 mg of a rosemary-citrus extract produced similarly impressive increases in resilience to UV radiation of ~30% after 2 months.
Glycosylceramides
Ceramides are a special type of lipid in the skin that make up about 50% of the mortar holding skin cells together in the outermost layer. They are absolutely necessary for skin barrier function, and a number of skin diseases like atopic dermatitis and psoriasis are associated with lower ceramide concentrations in the skin.
Isotopic tracer studies in rats have shown that oral ceramides are bioavailable and deposit into the skin after consumption, while a preliminary study in mice and humans has shown that glycosylceramides derived from konjac root reduces skin water loss after 12 weeks.
A study of healthy men and women found that supplementing with 100 mg per day of SkinCera® (supplying 5 mg of glycosylceramides) cut skin symptoms by nearly half compared to placebo, particularly skin dryness, pigmentation, redness, itching, and oiliness.
Skin Structure Formula FAQ
Does Skin Structure Formula contain furanocoumarins?
The so-called furanocoumarins are components of citrus fruits that inhibit certain liver enzymes and can thus influence the effect of some drugs. The grapefruit extract in Skin Structure Formula is obtained from the whole fruit, which is why it may also contain furanocoumarins. Presumably this is not a decisive quantity, but we would like to point this out explicitly.