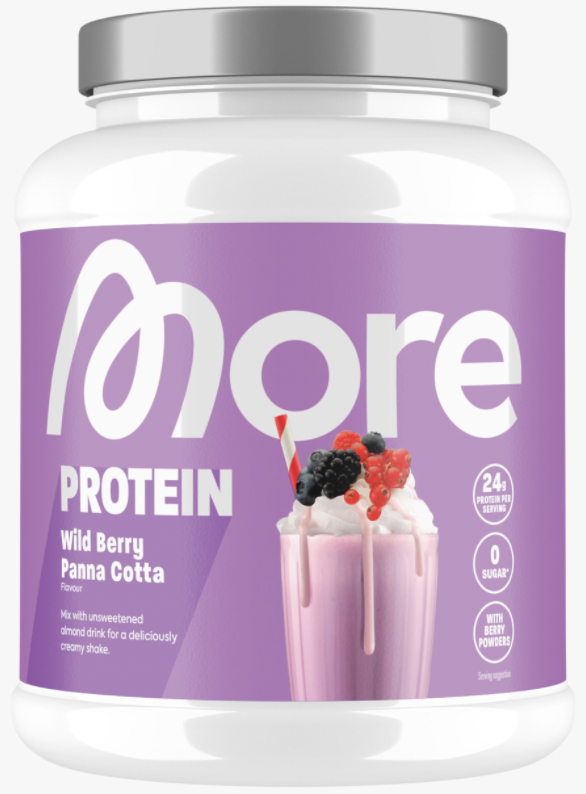 General
Total Protein is a tasty mixture of whey protein and casein and helps you to meet your daily protein requirements.
Our team has designed a protein powder that meets your protein requirements and provides your muscles with the optimum amount of protein - all with an excellent taste. With a mix of whey protein and casein protein, we provide you with the best of milk proteins.
Note: We have also added lactase so that people with a lactose intolerance can meet their protein requirements with our Total Protein.
Protein powder with whey and casein
With our Total Protein, you don't have to choose between whey and casein. We use an ideal mix of the two proteins in our protein powder. The casein content in the powder ensures a creamy consistency, as casein binds the liquid perfectly due to its protein structure. In his book "The Protein Book", Lyle McDonald refers to various studies that prove the benefits of a mixture of whey protein and casein protein compared to a single intake of whey. The studies have shown that whey causes leucine levels to rise sharply within an hour, but that they return to their initial level after just four hours. Casein is digested much more slowly and therefore also shows a lower leucine increase. On the other hand, the leucine level remains relatively constant for seven hours until it drops back to the initial level. The essential amino acid leucine is considered the initiator of muscle protein synthesis. In the study on which this statement by Lyle is based, the researchers found that whey stimulated muscle protein synthesis but had no effect on muscle breakdown. The opposite was true for casein. It inhibited muscle breakdown but had no acute effect on muscle protein synthesis. Looking at further data on this topic, Lyle comes to the conclusion that a mix of whey and casein is superior to the isolated administration of both proteins. This is also underpinned by current studies published in subsequent years. Based on these many years of general scientific findings on whey and casein, we rely on the perfect mix of casein and whey in our protein powder.
Which amino acids does Total Protein provide me with?
The protein powder we have developed consists of a complete amino acid profile. Due to the excellent composition of the amino acids, both whey and casein have a high biological value and excellent PDCAAs. The PDCAAs is the more modern and accurate measure to assess the quality of a protein. This is because the body's own digestion is taken into account in the calculation. This is important because a certain proportion of each protein cannot be fully digested. This complex method is therefore also recognized by the WHO. The reference value for determining the PDCAA is also the whole protein and its limiting amino acids at 1.0. The PDCAAs of casein and whey are 1.0, which is the best value.
Our protein powder contains a complete amino acid profile:
thryptophan

phenylalanine

leucine

isoleucine

threonine

methionine

lysine

valine

histidine

arginine

cystine

proline

alanine

Aspartic acid

serine

lutamic acid

glycine

tyrosine
You can find all further information about proteins in our article:
"Proteins - everything you need to know to meet your protein needs"

Total Protein FAQ
Can I consume Total Protein with lactose intolerance?
Total Protein contains 30k FCC per 100g of lactase.
The lactase is dosed in such a way that it neutralizes the amount of lactose contained in the powder plus the amount recommended for preparation with milk, for example.
Can I consume Total Protein if I have a milk protein allergy?
No, only the vegan protein shakes are suitable for people with a milk protein allergy. That means the Total Vegan Protein.
Can Total Protein be heated?
Yes, Total Potein can be heated up to 60 degrees. The ingredients are not affected.

Where does the whey used come from?
Most of the milk comes from the German or neighboring markets. We have independent laboratory analyses carried out and have FSSC22000 certification as the most important indicator of the quality of the raw material.
How is the lactase we contain produced?
The lactase is produced by fermentation of microorganisms and is therefore also vegan.
Does Total Protein contain soy?
It contains lecithin, which is not soy per se. We are unable to provide more precise information due to availability. Allergy sufferers generally have no problem with lecithin. Allergies are caused by certain proteins, and these are emulsifiers.
Does Total Protein contain iron?
No, there are generally no added vitamins and minerals in Total Protein.
Does Total Protein iced coffee flavor contain caffeine?
There is no caffeine in Total Protein Iced Coffee. It is only a coffee flavor.