General
Meanwhile, our product portfolio has become very large. We offer many different products in all possible flavors. We already receive a lot of feedback from you via social media and our support team.
Your opinion is very important to us - that's why we are now asking more closely and will collect the feedback. In the following, we explain how you can honestly rate a purchased product.
When will you receive a product review mail?
If you place an order with one or more products on the More homepage, you will receive an email with the review request 14 days after the order has been filled. So after you have tested the product(s), you can already give your review for a product within the mail.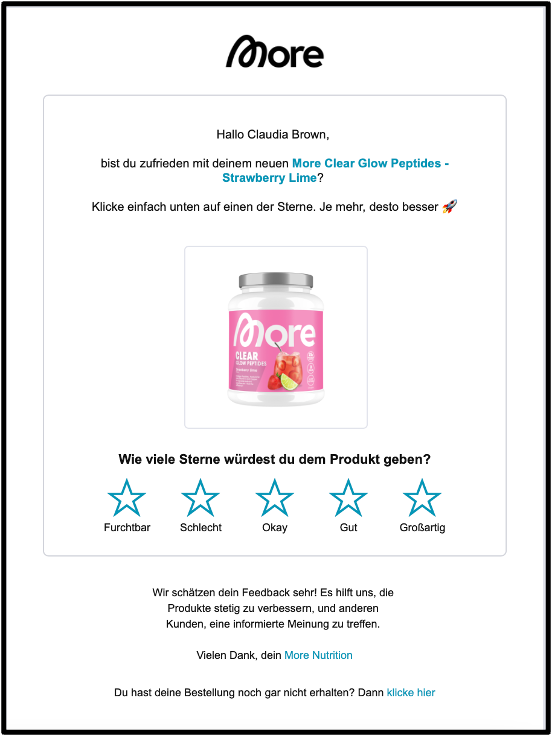 How is the rating done for orders with more than one product?
In the mail you will see only one product which you can rate directly. If your order consists of several products and you want to rate each of them, you click once on the product in the mail and land on a Yotpo page. Here you will find all ordered products listed. If you have already rated the product in the mail, it will be displayed on the Yotpo page with your rating.
If you want, you have the possibility to give a more comprehensive rating. Mandatory fields are "Title" and "Comment". Upload media, as well as other information such as...
rating of your taste
your age
your personal goal
are optional.
If you complete the evaluation for a product, you will see a success message.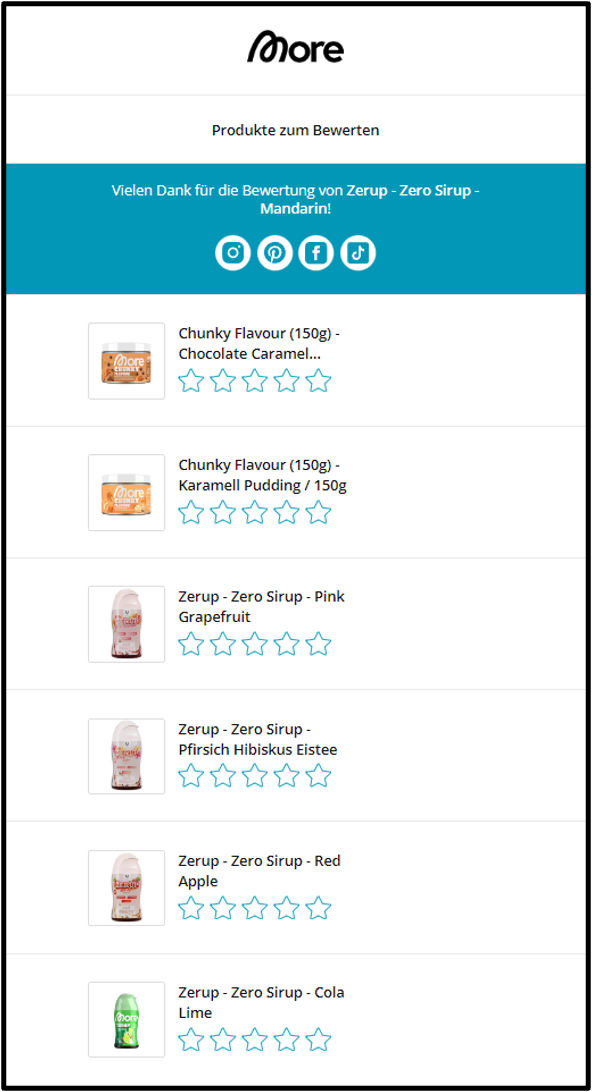 When will rating requests not be sent?
if you have already rated a certain product within the last 12 months
if you have already received 3 rating requests for a specific product
Verification of the ratings by us
Which ratings will (not) be published?
In principle, we publish, after approval, all product reviews, i.e. both positive and negative reviews, to ensure transparency and promote customer confidence.
There are certain reasons for which it makes sense not to publish a product review or to remove it after publication.
These include the following:
Not related to the product: reviews that are not directly related to the product being reviewed will not be published as they are not relevant to other customers.
Violation of policy: Reviews that are offensive, discriminatory, defamatory, misleading, fraudulent or otherwise inappropriate will not be published.
Spam: Spam reviews with repetitive content, links to unrelated websites, or obvious promotional material will not be published.
Violation of Privacy Policy: Reviews that contain personal information such as names, contact information, or other confidential data will not be published for privacy reasons.
Inappropriate language or behavior: Reviews containing vulgar or abusive language or otherwise inappropriate behavior will not be published.
Fraudulent or Fake Reviews: Fraudulent or fake reviews, including those from competitors or people who have never purchased the product, will not be published.
Repeated or Similar Reviews: Reviews that are submitted multiple times or from different accounts in order to manipulate the rating system will not be published.
Promoting competitors: reviews that are only used to promote the competition.
Healthclaims: Reviews with content that suggests a causal link between consumption of the product and medical/physical effects may not be published, even if they are trivial.
Polemical statements/warnings: Reviews that strongly exaggerate circumstances through polemical expressions or even contain warnings will not be published.
Which media (images/videos) are (not) published?
Do not show the product being reviewed: Images and videos that show other products or no products at all will not be approved.
Violation of guidelines: Images and videos that show offensive/ obscene/ hateful/ inflammatory/ sexist content will not be approved.
Violation of Privacy Policy: Images and videos that contain personal information such as names, contact details, other confidential data, or otherwise suggest the identity of the user will not be released for privacy reasons.
How do we handle reviews that are not published?
Reviews that are not published for privacy reasons will be resent to you with a request to remove the personal content.
Reviews that are not published because they are not related to a product will be commented on privately.
Data access and deletion
Information about the data or data deletion will be provided by our support team. Please contact us here if you have such requests.
Logout
You can opt-out of receiving rating requests by clicking the appropriate link in the footer of the rating email: