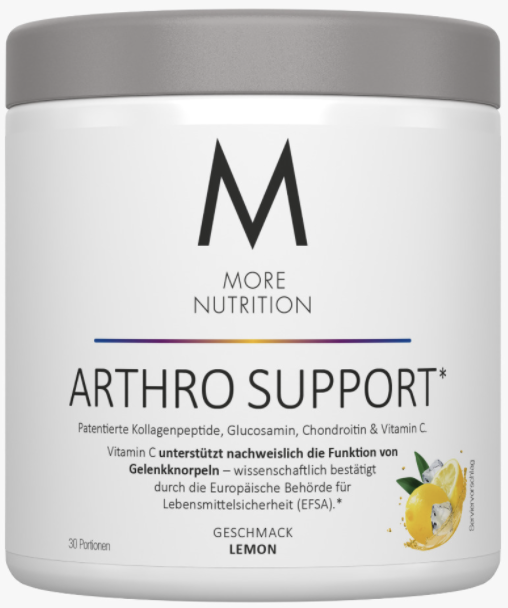 General
Not only statistically, but also our experience shows: Everyone knows at least one person who suffers or has suffered from joint pain or is or was affected themselves. Because more than every second person suffers or has suffered from joint pain according to official data from the Robert Koch Institute.

So writes the Robert Koch Institute (RKI) in its current fact sheet on the frequency of joint pain in Germany:

Joint pain is widespread and has affected or will affect almost everyone at some point. Therefore, we have developed Arthro Support together with nutritional physicians and scientists.
Because joint pain is not only annoying and unpleasant, it restricts one in everyday and leisure activities (walks, sports, activities) considerably and thus noticeably reduces the quality of life. Anyone who has had or is having joint pain will be able to confirm this.
Arthro Support delivers in a delicious drink scientifically proven exactly the nutrients that are particularly important for healthy joints and their normal function, in exactly the dosages used in gold standard studies.
Arthro Support not only supports joint cartilage health and pain reduction through the proven and extensively researched nutrients chondroitin sulfate and glucosamine sulfate. It also contains a bioactive specific collagen peptide that has been extensively researched and patented in clinical studies, as well as an undenatured collagen that has also been extensively researched and patented in clinical studies. Both substances additionally and demonstrably stimulate cartilage formation and can thus provide less discomfort and more mobility in the joints - whether for activity- or wearrelated joint problems.
The contained bioactive specific collagen peptide and non-denatured collagen are even able to regenerate cartilage tissue to a certain extent and have even shown positive effects in stress-related joint pain in gold standard studies.
Arthro Support is our best supplement for all problems around the articular cartilage - whether load-related joint problems in young years or signs of wear in old age: So that joint pain does not limit your activity and quality of life.
Ingredients
Fortigel®
UC-II®
Chondroitinsulfat
Glucosaminsulfat
Vitamin C
1.) Fortigel®
After long research, specific, bioactive collagen peptides have now been developed which - as the name suggests - can actively and specifically stimulate and supply various types of collagen. For example, these act specifically on cartilage tissue, which is particularly present in the joint and protects the ends of the joint bones.
The difference between this and non-specific collagen is that patented processing steps are used to split off precisely those peptides in the collagen that match the collagen type of the target tissue. You can think of this as a "lock and key" principle. Fortigel® is just such a specific, bioactive collagen peptide for cartilage tissue.
Fortigel® has been repeatedly shown over the past years in gold standard studies in wear-related joint problems and in healthy young active people to significantly reduce activity-related joint pain. Most recently at the University of Freiburg. It has even been shown to regenerate cartilage tissue via imaging techniques.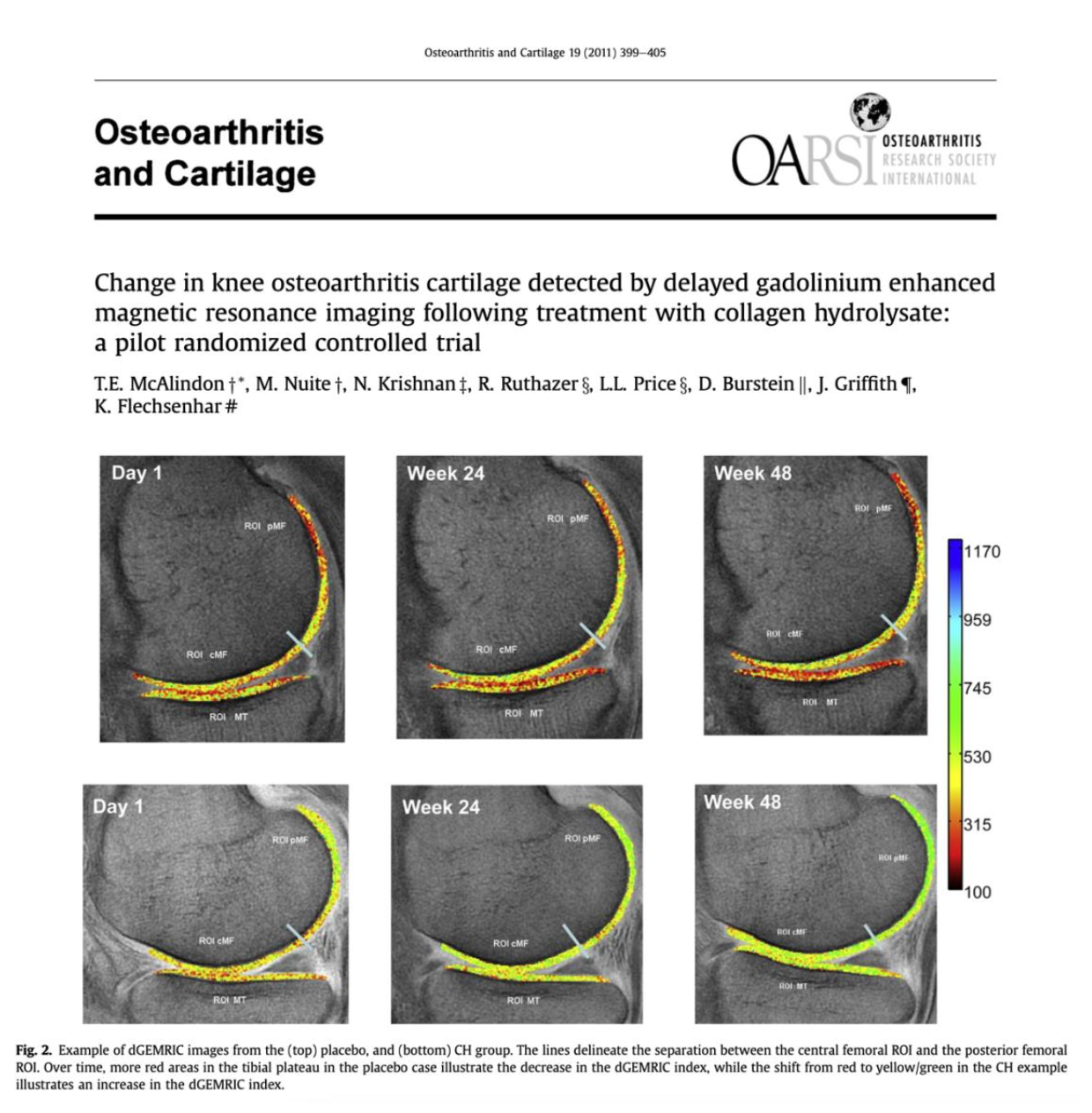 Visible improvement in articular cartilage structure after taking Fortigel® for 6 months.
2.) UC-II®
UC-II® is another innovative and patented collagen raw material. Unlike collagen hydrolysate and collagen peptides, UC-II® is completely undenatured and naturally contains native type 2 collagen, which can dock onto our "T-cells" in the body and specifically activate them.
The T-cells recognize the structure of UC-II® and in turn release certain bioactive compounds in response. These in turn stimulate type 2 collagen synthesis in the articular cartilage and ensure that the articular cartilage is maintained and built up.
It therefore acts in a slightly different way again and thus represents a very effective combination to the partially hydrolyzed specific bioactive collagen peptides of Fortigel®.
Important: There is no "better" or "worse" here. There are two very effective and scientific pathways used here. Both are already effective in isolation - in combination they are even more effective.
In several gold standard clinical studies in recent years (placebo-controlled, randomized and double-blind), UC-II® alone has been shown to significantly improve joint pain and joint mobility in healthy people with weight-bearing joint problems in sports and even in people with osteoarthritis (see end of paragraph 1,2,3,4).
UC-II® stimulates the body's own synthesis of articular cartilage. Thus it counteracts degradation and can even regenerate cartilage material to a certain extent.
Nice to know - how UC-II® reaches the T cells:
UC-II® reaches the intestine intact via the stomach and from there it reaches the T-cells in the body via so called "Peyer's plaques" (accumulation of lymph follicles in the mucosa of the small intestine).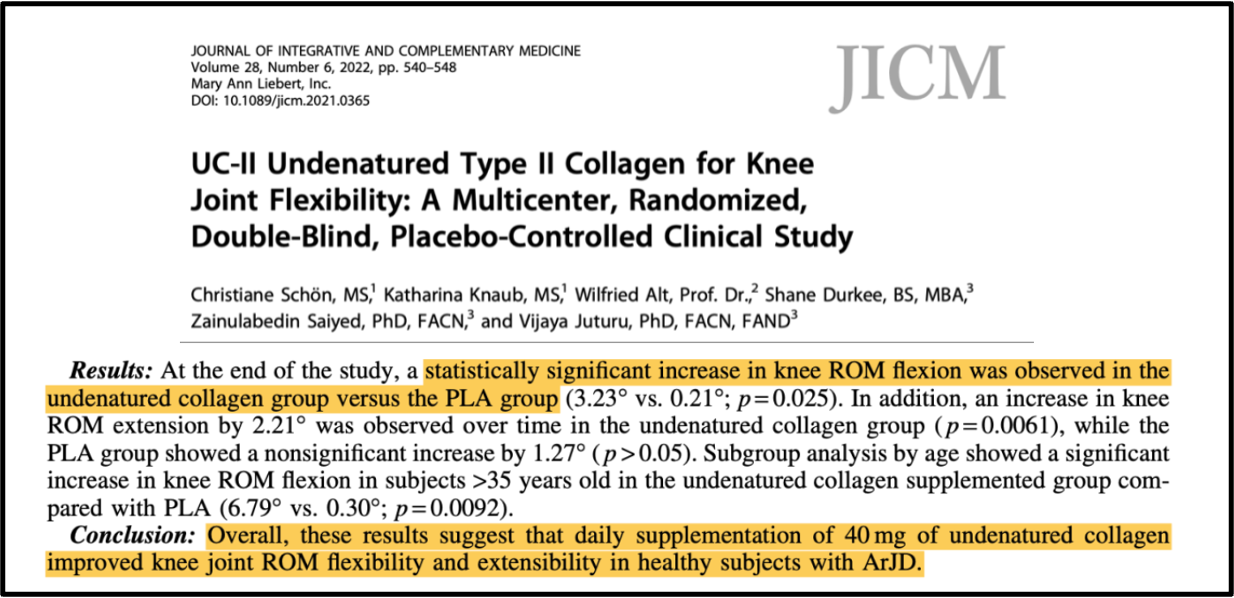 Significant improvement in knee mobility for activity-related joint pain - especially from age 35.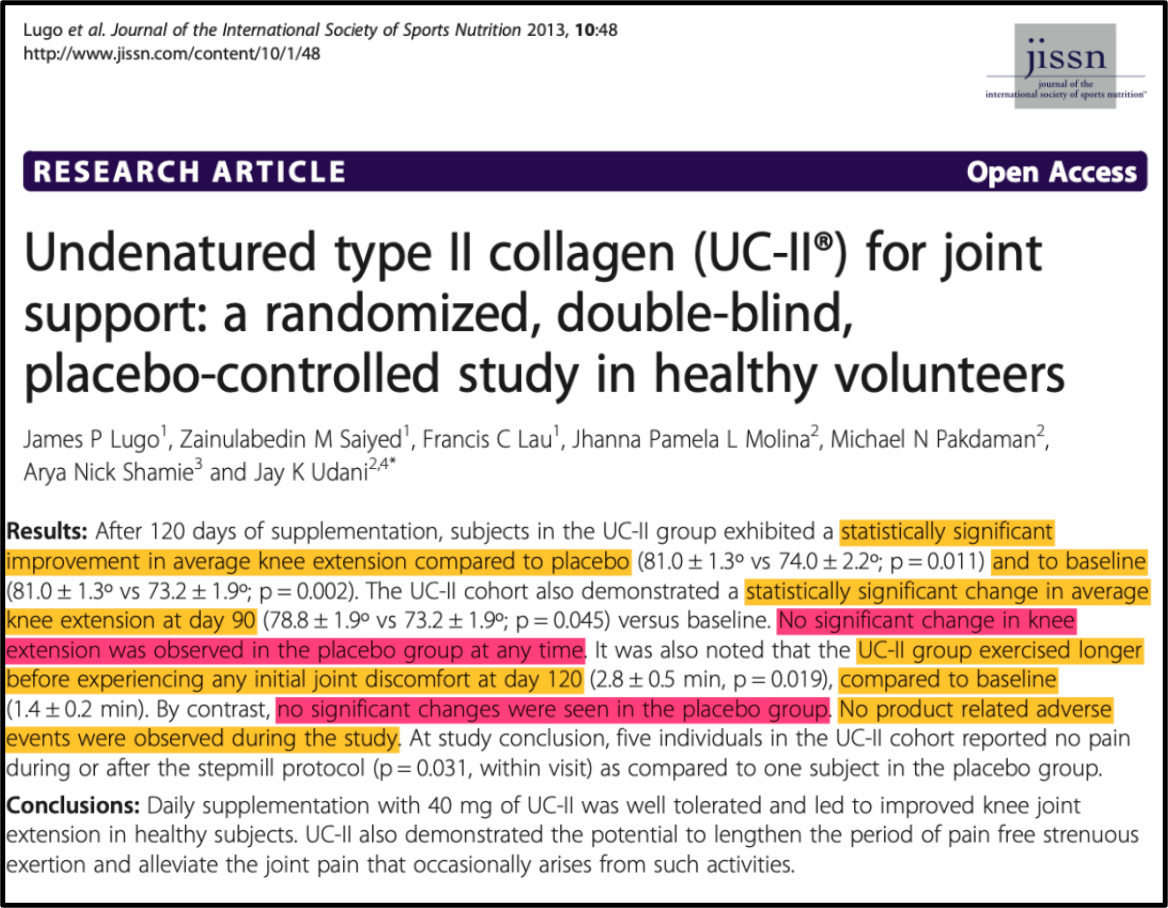 Significant improvement in knee mobility and load duration until onset of symptoms during sports activity in healthy individuals without diagnosed osteoarthritis.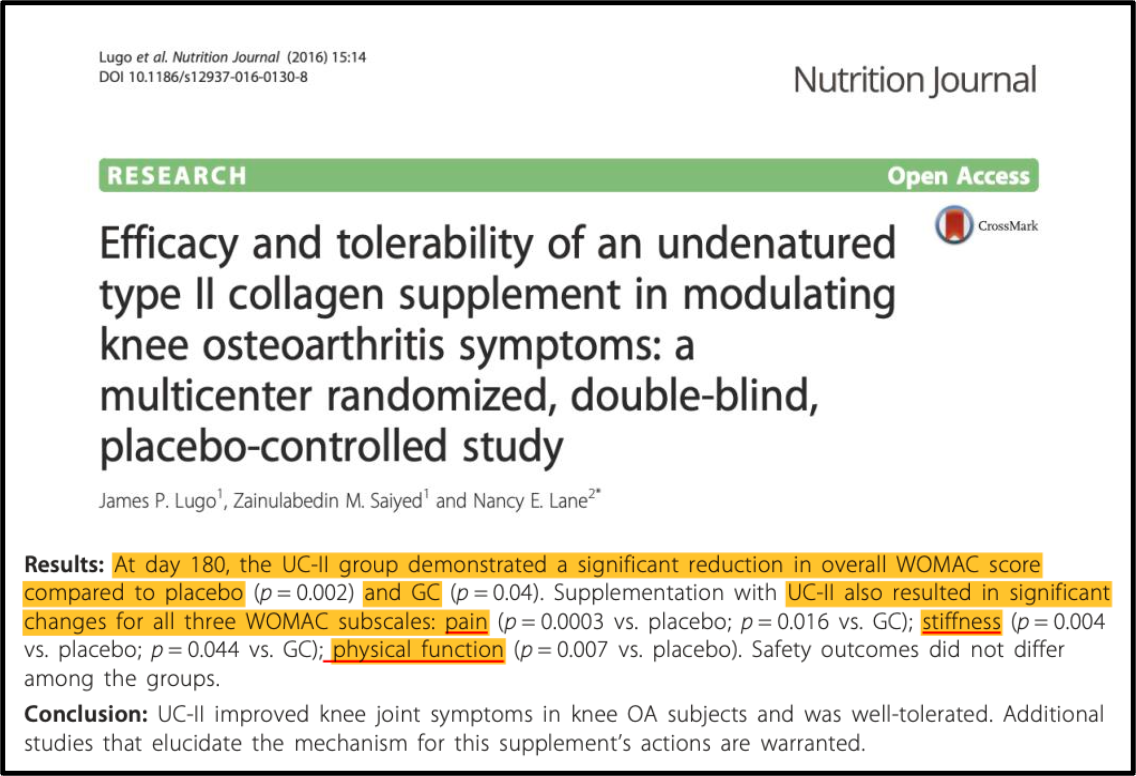 Significant improvement in knee joint pain and mobility in people with osteoarthritis.
1. Schön C, Knaub K, Alt W, Durkee S, Saiyed Z, Juturu V. UC-II Undenatured Type II Collagen for Knee Joint Flexibility: A Multicenter, Randomized, Double-Blind, Placebo-Controlled Clinical Study. J Integr Complement Med. 2022 Jun;28(6):540-548. doi: 10.1089/jicm.2021.0365. Epub 2022 Apr 4. PMID: 35377244; PMCID: PMC9232232.
2. Crowley DC, Lau FC, Sharma P, Evans M, Guthrie N, Bagchi M, Bagchi D, Dey DK, Raychaudhuri SP. Safety and efficacy of undenatured type II collagen in the treatment of osteoarthritis of the knee: a clinical trial. Int J Med Sci. 2009 Oct 9;6(6):312-21.
3. Lugo JP, Saiyed ZM, Lane NE. Efficacy and tolerability of an undenatured type II collagen supplement in modulating knee osteoarthritis symptoms: a multicenter randomized, double-blind, placebo-controlled study. Nutr J. 2016 Jan 29;15:14.
4. Lugo JP, Saiyed ZM, Lau FC, Molina JP, Pakdaman MN, Shamie AN, Udani JK. Undenatured type II collagen (UC-II®) for joint support: a randomized, double-blind, placebo-controlled study in healthy volunteers. J Int Soc Sports Nutr. 2013 Oct 24;10(1):48.
3.) Chondroitinsulfat
Chondroitins are macromolecules that are produced in the human body by chondroblasts and are an important component of cartilage tissue. Chondroblasts produce all the components of cartilage ground substance - build up the cartilage matrix, so to speak - and then release them into the environment so that they can be built up. These molecules are additionally supplied to the body with chondroitin sulfate.
A Cochrane Review was even published for chondroitin, which included 43 studies with a total of over 9,000 participants with osteoarthritis. Even though it is noted that most of the studies were of low to medium quality, overall positive effects were found for chondroitin.
This comprehensive review concludes the following for chondroitin:
May slightly reduce pain
Relieves knee joint pain by about 20%
probably slightly improves quality of life according to the Lequesne index (combined measure of pain, function and disability)
Slightly slows down the narrowing of the joint space in the X-ray image of the affected joint
positive effects have already been observed when taken over a period of 1 to 6 months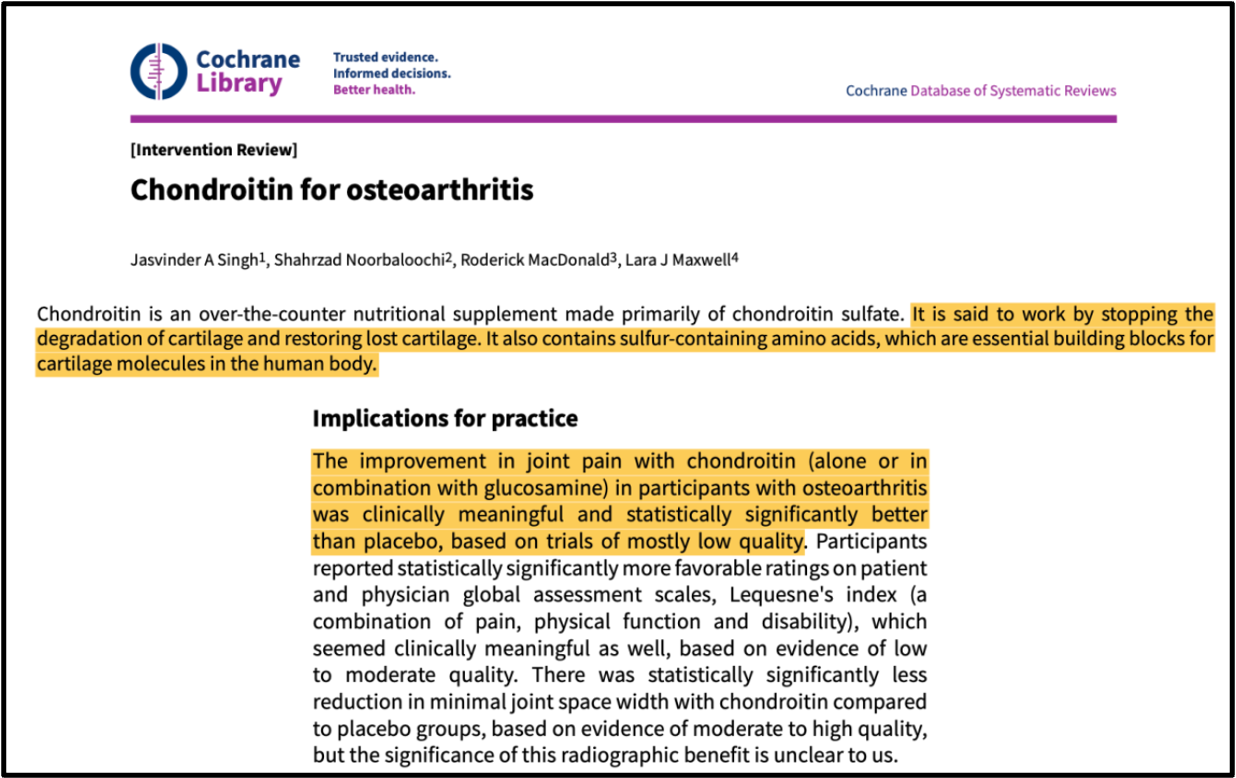 Chondroitin is scientifically suggested to inhibit the breakdown of cartilage tissue and even restore degraded cartilage tissue.
Also Examine.com - the largest independent supplement analysis portal ranks chondroitin as a "primary option" for joint health.
4.) Glucosamine sulfate
D-glucosamine sulfate is a component of cartilage and synovial fluid. It is often combined with chondroitin as synergistic effects have been noted.
In various studies according to the scientific gold standard, glucosamine sulfate was found to have positive effects on joint pain and even osteoarthritis:
That's why glucosamine is also independently rated by Examine.com as a "primary option" for joint health.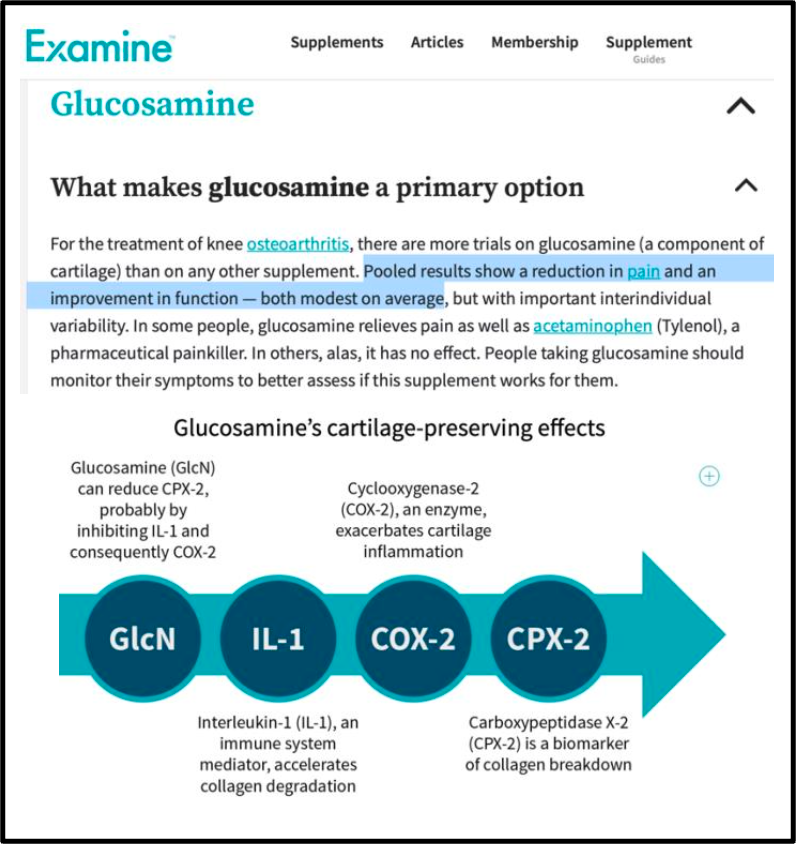 5.) Vitamin C
Vitamin C is an important and limiting factor in collagen synthesis. A deficiency of vitamin C ensures a poor cartilage structure. It is true that on average we consume sufficient vitamin C, but it is often forgotten that vitamin C, as a water-soluble vitamin, has a half-life of only 13 hours.
In addition, it is involved in an extremely large number of processes in the body (some of which are essential for survival), which are naturally prioritized in the event of insufficient supply. Collagen synthesis is one of the "less important" processes.
Considering that intensive physical stress, such as sports and also infections increase the vitamin C requirement many times over, it becomes clear relatively quickly that, to be on the safe side, a small amount of vitamin C should be supplemented together with collagen.
Arthro Support FAQ
Can Arthro Support be used during pregnancy and/or breastfeeding?
There are no data proving negative effects for pregnant women and nursing mothers. A scientific health assessment of the use of glucosamine and chondroitin for pregnant and breastfeeding women is unfortunately not possible due to a lack of scientific data. But there is also insufficient data to prove the opposite. Since we take our responsibility very seriously and always play it safe, we do not recommend taking it during pregnancy or while breastfeeding as a precautionary measure.
However, you are welcome to clarify this with your doctor or save your product until after breastfeeding.
Is the raw material UC-II Collagen in Arturo Support halal certified?
No it is not, but since UC-II is derived from chicken cartilage, it is considered halal and can be consumed by Muslim customers.
Can Arthro Support be taken with anticoagulants?
If you are taking anticoagulants, we advise you to check with your doctor before taking Arthro Support. The glucosamine contained in the product could increase the effect.
Why is the can so large for the contents?
When filling, the volume of the powder is larger, because the powder is loosened and there is a lot of air in between. But when the powder settles and collapses, it becomes less. With such fine powder, the optical effect is stronger. This creates the assumption that there is less powder in the can, which of course is not the case. Unfortunately, however, this process cannot be prevented.