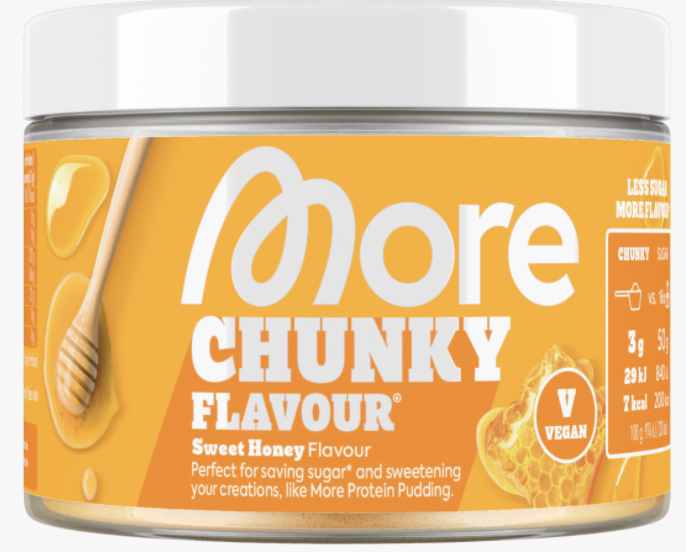 Chunky Flavour - more than a flavour powder
The Chunky Flavour is a flavor powder based on inulin, a vegetable fiber.
It helps you everywhere you want to save calories without sacrificing delicious taste. One serving of our powder can replace the sweetness of up to 50g of sugar, saving you up to 200 calories.
You can easily stir the Chunky Flavour into your tea, coffee, yogurt or porridge, or use it in baking. Our Chunky Flavour is a popular anti-hunger helper that you can't do without once you've tried it. Because healthy eating can be so easy and so delicious.
Another benefit: Chunky Flavour contains lactase. This means that lactose intolerant people can eat Chunky Flavour together with dairy products. The lactase improves lactose digestion - so there is no unpleasant feeling of fullness or bloating.
Chunky Flavour helps to lose weight
You can save a significant amount of sugar and thus calories with the Chunky Flavour - and that without starving. Thanks to our unique recipe, you can feast during your diet without a guilty conscience.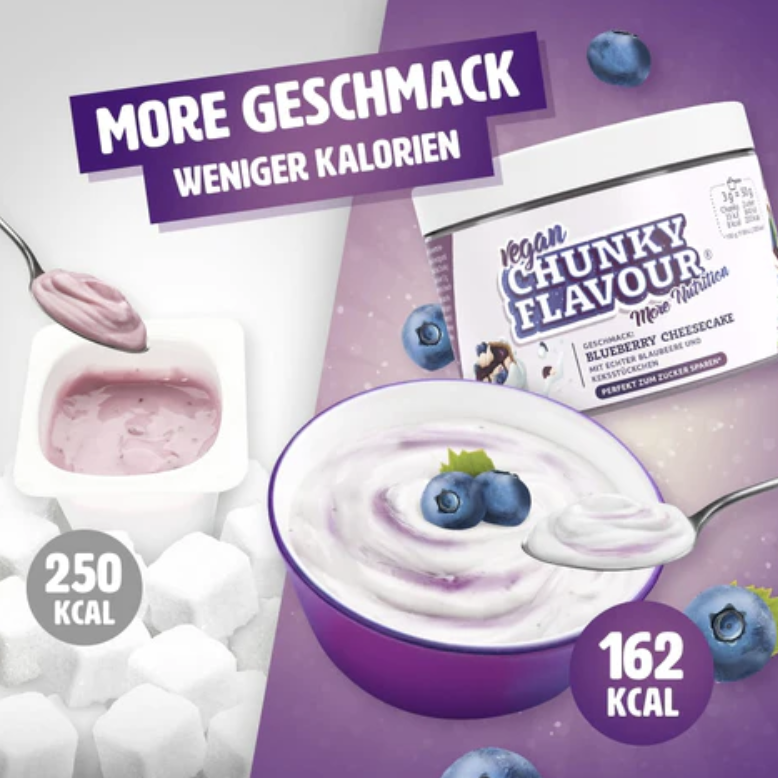 We encounter sugar every day at almost every meal, whether as glucose, fructose or sucrose. Often we are not even aware that hidden sugar is added to many foods in which we do not even suspect it. It is therefore important to be aware of our own sugar consumption. The WHO recommends limiting the daily sugar consumption of added sugar, referred to by the WHO as free sugar, to 5% of the total energy intake. With a daily calorie requirement of 2,000 kcal on average, this corresponds to 25g of sugar.
Should you give up sweets because of this? No, you don't have to give up sugar completely, because in small quantities it does no harm and provides us with energy. However, this is the only thing it provides, because it does not contain other nutrients, especially micronutrients such as vitamins or minerals. It therefore provides "empty calories". Therefore, it is better to use sweeteners as a substitute for sugar, for example. Depending on the variant, the sweetening power is similar and the advantages over household sugar outweigh the disadvantages.
And no, sweeteners are not as bad as they are portrayed in some feuilleton media. In another article we looked at four myths about sweeteners, you can learn more here: Sweetener Myths
In our Chunky Flavor, we combine harmless sweeteners (stevia and sucralose) with authentic quality flavors and real chunks that perfectly match each flavor.
To try out the different flavors of Chunky Flavour we offer sample packs and even a tasting box with different samples:
Recipe inspiration
Here you will also find tons of inspiration for great recipes with the Chunky Flavour.
For more recipe ideas to save sugar, we recommend you browse the More Instagram account and the accounts of our influencers.
We'll link you to a few examples here:

antoniaelena.official

morenutrition.de

iqskitchen

Chunky Flavour FAQ
Can Chunky Flavour be used for fructose intolerance?
Chunky Flavour includes an ingredient called inulin, which can act as a prebiotic and is considered part of the FODMAP family. Many people with fructose intolerance also have FODMAP intolerance. Due to this, inulin can actually "trigger" fructose intolerance. While this is very rare, it can happen. However, this is very individual and depends on how sensitive the individual person is. Therefore, we advise testing with small amounts.
Is Chunky Flavour suitable for diabetics?
Since the Chunky Flavour contains <10 kcals per serving, there is minimal to no blood sugar response and minimal insulin response. Therefore, it is also suitable for diabetics. However, we do advise testing it in small amounts first and ensuring there is no adverse reaction.
Chunky Flavour contains sugar. Why is it advertised as "sugar free"?
Chunky Flavour has never been advertised as "sugar free" and does not have a particularly high amount of sugar — unless you eat it plain and in large quantities. Chunky Flavour has a maximum of 0.9 grams of sugar per serving, which comes only from the pieces, the "chunks" it contains, and is suitable for sweetening 300 grams of food or 300 ml of drink. This means that a food or drink sweetened with Chunky Flavour contains a maximum of 0.3 grams of sugar per 100 g or ml, which even falls under the legal definition of "sugar-free". A serving with a maximum of 0.9 g of sugar replaces 50 g of sugar in terms of sweetness.
Why does Chunky Flavour appear lumpy and soggy?
The initial appearance of your Chunky Flavour may appear lumpy and a little moist, but this is normal for the product and does not change the taste or quality. To ensure that your product maintains its high quality over time, we'd like to share a few storage tips with you below:
Chunky should always be stored in a dry place away from direct sunlight
Do not store it near sources of heat or moisture (e.g. oven, dishwasher)
Make sure that you do not hold the scoop or chunky directly over a steaming beverage
Never decant your Chunky Flavour and keep it only in the designated container
The Chunky can should always be tightly closed
In an emergency, loosen the solidified powder in the blender, this can also help prevent it from clumping together

What can I do if my Chunky Flavour has gone hard?
If you follow all the tips listed above and your can of Chunky Flavour has still gone lumpy and/or hard, contact our support team with the lot number, the expiration date and the suitable order number. Please also send a photo of the Chunky Flavour.
Don't worry, the team will help you and find a solution!
Is Chunky Flavour suitable for young children?
You can start giving your child Chunky Flavour at the same time you would give your child any other sweeteners. Proportionally, you should use much less Chunky Flavour for your child than for yourself. This is very important for children's taste preferences.
You can find more information in the article: Kids and More Nutrition
Is Chunky Flavour suitable for infants?
Chunky Flavour is considered safe for small children, including infants when given at the appropriate dosing. However, as advice, infants should not start directly with foods sweetened with industrial sugars or sweeteners when they begin consuming normal food. Generally speaking, children at that age simply do not need or demand anything sweetened, as they are not yet familiar with the taste. This is why toddlers and infants should have limited exposure to sweetened foods for as long as possible. When children do desire sweet foods, health alternatives like Chunky Flavour can be an effective alternative to calorie-heavy industrial sweeteners.
Can Chunky Flavour also be given to animals?
Animals should receive minimal amounts of human food as their digestive tracts and metabolism are quite different from humans and the goal should be to give animals as close to zero human food as possible. From an ingredient and dosing perspective if your pets or animals accidentally consume small amounts of Chunky Flavour there is no immediate or life-threatening risk for them. Some animals may experience moderate gastrointestinal distress such as diarrhea from the inulin.
Chunky Flavour utilizes stevia and sucralose as sweetening agents which are much safer for animals, especially dogs, than other zero-calorie sweeteners such as xylitol which is toxic to dogs in doses as low as 0.1 g/kg.
Does Chunky Flavour Butter Biscuit contain wheat?
In Chunky Flavour Butter Biscuit, wheat is only contained in the butter cookie pieces. These consist of about 70% wheat flour. We recommend people with celiac disease or severe gluten intolerance opt for a different flavor just to be safe.
Is there lactose in Chunky Flavour?
Chunky Flavour contains an ingredient known as lactase, which is the enzyme that breaks down lactose. Enzymes, just like sugar itself, are never of animal origin in the first place. Our lactase is produced by fermentation and is therefore vegan. We have the lactase in the vegan varieties also as a basic ingredient, so that the good compatibility of dairy products is also guaranteed for non-vegans with the vegan varieties.
How is the lactase we contain produced?
The lactase is produced by fermentation of microorganisms and is therefore also vegan.
Does Chunky Flavour have a negative effect on the liver?
Chunky Flavour does not have any negative impacts on the liver and should be considered safe for people with established liver issues. However, if you have experienced any liver issues please consult with your healthcare provider.
If you are a highly-active individual you may experience transient increases in liver enzymes such as ALT and AST due to the acute effect that exercise can have on liver enzymes. This is considered normal and a result of exercise.
What is the potassium value in Chunky Flavour?
At normal consumption levels of Chunky Flavour, you do not absorb relevant amounts of potassium. Our Chunky Flavour consists mainly of inulin and inulin contains minimal traces of potassium.