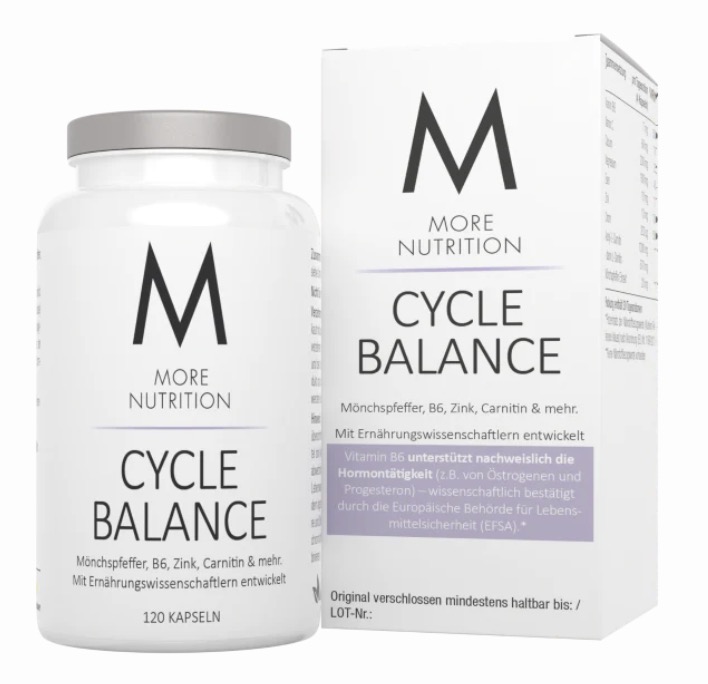 General
Whether stress or hormonal fluctuations, discomfort (negative sensations) during menstruation or even normal premenstrual symptoms (PMS) associated with the female cycle: Women are exposed to very different stresses in everyday life. It is therefore all the more important to supply the body with important micronutrients in order to be fit and efficient every day.
In addition, it should not be forgotten that women have a completely different need for vitamins and nutrients than men. That's why we've taken care in the ingredients of our Cycle Balance capsules to include important micronutrients for women that provide special support for the female body. According to the National Nutrition Survey II, 75% of women under age 50 do not meet the recommended daily intake of iron, 21% of women do not meet the recommended intake of zinc, and 29% of women do not meet the recommended intake of magnesium.
Cycle Balance makes it easy to provide your body with these nutrients and more every day. Of course, this supplement does not replace a balanced diet, which is important for the body and should be adapted to your needs.
During the cycle there are naturally hormonal fluctuations, especially of estrogens and progesterone. Our Cycle Balance is our supplement for the female cycle and supports the regulation of hormonal fluctuations.
We rely on the sound composition of selected micronutrients, the proven plant extract from monk's pepper and L-carnitine in our Cycle Balance capsules to offer you a sensible dietary supplement without superfluous ingredients.
For whom is Cycle Balance useful?
For all women who experience symptoms during the premenstrual phase due to the natural hormonal fluctuations such as:
Abdominal cramps
Lack of energy
Cravings
bloating and flatulence
Mood swings

To counteract the normal accompanying symptoms caused by the hormonal fluctuations due to the cycle and thus provide a better quality of life.
Ingredients
Monk's pepper (Vitex agnus castus): is able to alleviate the typical above-mentioned premenstrual symptoms, which manifest themselves as mood disorders. This is also confirmed by Examine, the largest independent scientific supplement analysis portal, and the European Medicines Agency (EMA) also confirms the effect of monk's pepper.

Zinc, magnesium and iron: have been shown to contribute equally to the reduction of fatigue and fatigue, helping you to cope with each day fit and efficient.
Zinc: contributes to normal fertility and normal reproduction (reproductive capacity).
Iron: also has a function with magnesium in cell division.
Chromium: has been shown to support blood sugar levels, scientifically confirmed by the European Food Safety Authority (EFSA), when insulin sensitivity decreases in the second half of the cycle.
Vitamin B6: may influence hormone activity in the (female) body, helping to regulate estrogen and progesterone.
Acetyl-l-carnitine: Carnitine is a critical nutrient for hormone production, so studies have shown that it can be beneficial for the female cycle to supplement this. The Actyl form is particularly effective here.

Cycle Balance FAQ
Is Cycle Balance lactose-free?
Yes, Cycle Balance is lactose-free, as it contains no lactose or even any dairy based ingredients. Female Protect and Mineral Complete, which are often stacked with Cycle Balance are also lactose-free.
According to the label, Cycle Balance is "not suitable for children, adolescents" - why?
At More we aim to be as transparent as possible with our products and ensure we communicate any and all potential risks with our products. Cycle Balance includes an ingredient known as Monk's Pepper. There is no evidence to suggest that Monk's Pepper carries any meaningful risk to children or adolescents but there is no published data clearly stating it is safe. As such, we have included a caution on the label to let our consumers know this. However, there is also no evidence that Monk's Pepper is unsafe in post-pubertal female adolescents.
Please always contact your treating physician if you are unsure.
What dosage of Cycle Balance is recommended for adolescents?
In principle, there is nothing against giving your children supplements to prevent deficiencies or fill gaps in their nutrition supply. This is why thousands of parents already give their children Kids Complete or, at a later age, a combination of Essentials O3-D3-K2 and Mineral Complete. Cycle Balance has been formulated to help fill nutrition gaps that may be present in women and provide additional nutritional support that can help with the female cycle, including young women. However, given the effects that the ingredient Chaste Tree Extract has on hormones and symptoms related to premenstrual syndrome (PMS), it should be approved by a healthcare provider before being administered to an adolescent.
Does a combination of Meno Support & Cycle Balance make sense?
Generally speaking Meno Support and Cycle Balance are designed for different situations. Meno Support is specifically intended for menopause symptoms such as hot flashes, mood swings, etc.. Cycle Balance, on the other hand, is primarily designed to be used for PMS symptoms such as water retention, cramps, mood swings and cravings. Cycle Balance is best when used in weeks 3 and 4 (the luteal phase).
It would be more beneficial to combine either Cycle Balance or Meno Support with other nutritional support tools such as Essentials O3-D3-K2 and Mineral Complete than to combine Cycle Balance and Meno support.
I use hormonal contraception. Should I take Cycle Balance?
Cycle Balance was developed and created specifically for women with a normal menstrual cycle. Hormonal contraception generally disrupts the normal menstrual cycle which means Cycle Balance is likely not the ideal supplement for you.
If you are using hormonal contraception, it makes sense to take Pill Support in addition to the basics from Essentials O3-D3-K2 and Mineral Complete. Oral contraceptives lead to a greater need for some nutrients (e.g. vitamin C and B6) and decrease needs for others (e.g. iron).
What is the recommended daily dose? How do I make sure that I do not overdose?
The recommended daily dose of Cycle Balance is 4 capsules a day which will reduce the likelihood of consuming too much of any nutrient. Generally speaking, consuming vitamins and minerals above the daily reference value is not considered "overdosing" but "exceeding the daily reference limit".
It is actually quite difficult to over consume water soluble vitamins like vitamin B6 as your body will filter out excess levels quite efficiently through urination.
Additionally, a value above the reference value is by no means equivalent to an overdose (with negative consequences). Rather, slightly supraphysiological doses of nutrients that result in blood values above the reference range can make sense in certain situations. For many parameters it even makes sense to stay in the upper range or even slightly above the reference values (e.g.: 25(OH)D). This is also the case with unpleasant sensations before menstruation, for which Cycle Balance was designed. The fact that this means that the vitamin B6 level is above the reference value shows its effectiveness. Because in different clinical studies, up to 600 mg of vitamin B6 per day were administered over longer periods of time to achieve supraphysiological vitamin B6 levels. In some cases, these had positive effects on unpleasant sensations before menstruation — without side effects. That's why higher doses of vitamin B6 are included in Cycle Balance.