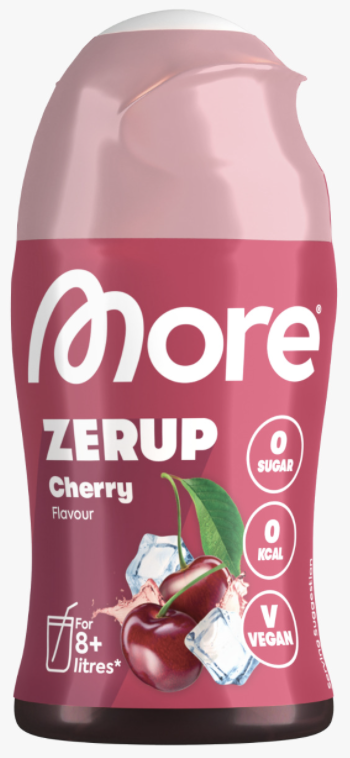 General
Our Zerup is a sugar-free drink syrup with a fruity taste. It is a great alternative to sugary soft drinks, juices or spritzers and is popular with young and old alike.

What makes our Zero Syrup so special:
Highly concentrated energy and sugar-free drink syrup
Practical size for on the go
Enjoy delicious fruity, refreshing drinks without sugar
One squeezie makes 8 - 12 liters of ready-to-drink beverage
Do you want to reduce sugar and calories without missing out on deliciously sweet and fruity drinks in everyday life? Fruity, intense taste without any sugar: drinks are this delicious thanks to our sugar-free drink syrup.
Whether it's soft drinks or fruit juices - if you want to cut out sugar in your everyday life, you'll also encounter numerous calorie bombs and sugar traps when choosing drinks.
Our Zerup is the perfect alternative for you: Because sweet and fruity taste also works without sugar. As we use harmless sweeteners for our Zerup, it is sugar-free and contains virtually no calories. Thanks to the deliciously intense taste, you only need a small amount of the syrup to prepare a fruity, fresh drink.

Zerup FAQ
Do Zerups contain caffeine?
No, Zerups do not contain any caffeine. The iced tea Lemon Zerup may contain a few mg of caffeine from the tea extract, but less than in normal tea. The extract is not standardized for caffeine or specially enriched. It is a natural product.
Can my child drink Zerups?
Yes, children can drink Zerups from the age at which you would give your offspring other sweet drinks. Zerups are also an excellent alternative to sugary soft drinks for children. You can find out more in our article: Kids and More Nutrition.
Can I drink Zerups if I have diabetes?
Yes, Zerups are a great alternative to sugary fruit juices and the like if you have insulin resistance or diabetes.
Can I drink Zerups if I am pregnant or breastfeeding?
Yes, it makes sense to take care of your health, especially when you are pregnant or breastfeeding. So feel free to use the Chunky Flavor and Zerups to cut down on sugar. Also pay attention to your daily protein requirement of 2g per kilogram of body weight and eat 500g of vegetables a day. You can find out more in our article: More products during pregnancy and breastfeeding.
Where does the glycerine come from?
The glycerine comes from vegetable oils.